Qingmei Han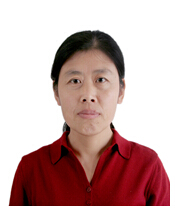 Doctor; Researcher;
  Began recruiting doctoral students in 2015.
  Email: hanqm@nwsuaf.edu.cn
  Tel:029-87080251
  Research Focus
  1 Integration and demonstration of green prevention and control technology of grape diseases and pests,Shanxi Province, the special co-ordination, 2013-2016,0.75 million yuan.
  2 Sclerotinia Oil Crops Comprehensive Prevention technology research and demonstration,Public service sectors science and technology projects, 2011-2015,1.09 million yuan.
  3 Cloning and functional verification of wheat scab resistance genes,Ministry of agriculture genetically modified special,2012-2015, 360000 yuan.
  4 Research on the ecological control technology of harmful organisms in agriculture and forestry, "863" sub project, 2012-2015,250000 yuan.
  5 Construction of a mutant library of Endophytic Bacillus subtilis Em7 and cloning of related genes, Shanxi province fund, 2013-2014, 40000 yuan.
  6 Integrated control apple rot, Shanxi Province, the special co-ordination, 2012-2014, 160000 yuan.
  Representative papers
  Inhibitory efficacy of endophytic Bacillus subtilis EDR4 against Sclerotinia sclerotiorum on rapeseed.Biological Control, 2014
  Infection of Botryosphaeria dothidea and its impact on Histocytological of Apple Fruit. Asian Journal,2014
  Valsa germs GTP- GCH II knockout vector and its mutant phenotype analysis,Chinese Agricultural Sciences, 2014
  Effect of a benzothiadiazole on inducing resistance of soybean to Phytophthora sojae. Protoplasma, 2013
  Investigation of host responses of different potato genotypes at tissue, cellular and subcellular levels after infection with Phytophthora infestans. Am. J. Potato Res., 2013
  Histological and cytological investigations of the infection and colonization of apple bark by Valsa mali var. mali. Australasian Plant Pathol, 2013
  Cytology of infection of apple leaves by Diplocarpon mali. Eur J Plant Pathol., 2013
  8. Cytological studies Penicillium digitatum infests citrus fruits, Asian Journal, 2013
  Major and research direction
  The comprehensive management of plant pathology, the direction of plant immunity.
  Graduate students to participate in international academic conferences and academic reports
  Chen Yafei. Qingdao July 2013. Biological control of Sclerotinia,Chinese Plant Pathology 2013 Annual Conference,etc.
  Graduate student academic awards
  Song Na was awarded the 2014 annual plant pathology Innovation Research Award three,etc.
  Graduate employment
  1 Chen Yafei, Ph.D. Seoul University, Korea;
  2 Wang Fuping, Shaanxi Tasly Plant Pharmaceutical Co., Ltd.;
  3 Wang Ning, Ph.D. NWAFU;
  4 Wang Haiying, Yangling District Five Springs People's Government;
  5 Du Zhantao, Guangxi's rural Biochemical Co., Ltd.; etc